Car Title Loans: Are They Worth the Risk?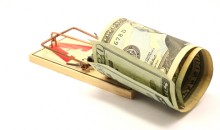 Car title loans are not a new idea, but they could become more popular in today's economy. People are finding it more difficult to meet the tough requirements for traditional bank loans and are turning to alternatives to borrow money when their income requirements and credit scores do not meet bank standards. These loans might be easy to obtain, but are they smart, financially?
You see their commercials everywhere. Car title loans are short-term, high interest loans and as long as you have a paid-off vehicle, you most likely qualify. If you have bad credit or no credit, that's okay with these guys. Why? Because car title lenders do not look at your credit score to determine whether you quality for a title loan. All you need is a clean car title, meaning you have a vehicle that is completely paid for, and free of any liens.
The loans are easy to get and take about 15 minutes to get from the time you walk in their door. There is usually no credit check. Some require income verification, but usually that is as simple as providing your last paycheck stub. They will loan you as little as $100 or as much as 30% to 50% of the Kelley Blue Book value of your vehicle. Since the loan is short-term you usually have 30 days to pay in full or renew the loan.
A typical car title loan can have an average interest rate of anywhere from 25% to over 100%, which exceeds the annual percentage rate of most credit cards. They also tack on processing and origination fees. Some boast lower interest rates or a free interest rate for the first month, but this is considering that you are able to pay it back within the 30 day time frame. If not you are expected to pay for an extension which is the interest only. However, this is no small fee. According to a report made by the Consumer Federation of America, the Missouri Auditor found that "on average, title and payday lenders make 3.5 times more renewal loans than new loans each month," making it sound as if car title lenders are keeping their doors open primarily with extension payments.
Car title loans promote that you get to keep your car when you borrow the money. This is true, but if you don't pay you risk losing your car. Many car title lenders work like pawn shops. You sign over your property – your vehicle title – and they loan you the money. When you don't pay, your property is repossessed and sold at auction. Some lenders even take a copy of your car keys as part of the guarantee that they can easily repossess when you don't pay.
Losing your vehicle also means more charges. If you want the vehicle back you must come up with the total loan amount, finance charges, repossession fees, and late charges. Even when you are able to collect the money to pay off the debt there is no guarantee you will get your vehicle back.
As of 2011, car title loan companies are only regulated by the state. Only 19 states allow these types of high cost loans. These states have varying laws when it comes to the rules of car title lending. Some states have strict laws helping to protect consumers from predatory lenders, while other states have minimal laws. Minimal laws could mean that once your vehicle is repossessed and auctioned the lender is allowed to keep the full auctioned amount of your vehicle even if it greatly exceeds the amount of the loan. There are no federal regulations on car title loans at this time. It seems the practice of some lenders has attracted the attention of the Consumer Financial Protection Bureau (CFPB), a supervisory committee over financial lenders and other financial companies. In 2011, the CFPB decided they would investigate car title lenders and crack down on those who are abusive and make it difficult for borrowers to pay off their debts by adding exorbitant interest rates and fees to their loans.
So, are these loans financially smart? I would say the answer is no. However, the reality is that many will use car title loans in an emergency situation when they feel it is their only option. It is best to be informed before taking out any type of loan, but especially one that risks you losing your transportation. Check your state's consumer regulations on car titles loans before taking the money from a car title lender.
In addition, check with banks or credit unions in your area. Some now offer short-term loans to high risk customers with reasonable pay-back plans which keep the consumer from going in to deep debt or potentially losing their vehicle.