Cheap Car Insurance for Teenage Drivers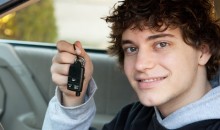 Teenage drivers have a difficult time finding cheap car insurance. Rates are often thousands of dollars a year for anyone under 25. Statistics show that teenagers are more likely to get involved in a car accident during their first year of driving than at any other time. Young drivers account for 10 percent of license holders, but are involved in over 29 percent of accidents. The good news is that there a few things teenage drivers can do to make themselves more attractive to car insurers and reduce costs.
Factors That Affect Your Auto Insurance Rates
Teenage drivers are more likely to have a car accident than more experienced drivers. Car insurance rates are set according to risk. The cost of your auto insurance policy depends on how risky the insurance provider thinks you are to insure. Insurance companies determine your premiums based on a number of factors such as your age, gender, driving experience, location, driving violations, credit rating, occupation, education, accident claims, and vehicle type. The number of miles driven each year may affect your car insurance rates too.
The age and driving record of your family members influence your premiums as well. Drivers who have been involved in car accidents pay higher rates than those with good driving records. If you use your car to go to school, you will get higher premiums. People who drive long distances or use their cars on a regular basis pay more than those who drive fewer miles per year.
The make and model of your car are some of the main factors based on which car insurance companies determine your rates. If you drive a sports car, be prepared to pay for it. A cheap car with a small engine will cost less to insure than a more expensive vehicle. When you buy your first car, choose a smaller model to help reduce insurance costs.
Select the Right Type of Coverage
Many new drivers feel overwhelmed when it comes to choosing a specific type of coverage. Before you start shopping for car insurance, check the minimum coverage requirements in your state. Do proper research and learn about the most important types of auto insurance. This way you will be able to choose the best type of coverage and make an informed decision.
Insurance companies usually provide liability coverage, uninsured/underinsured motorist protection coverage, comprehensive coverage, collision coverage, and personal injury protection coverage. Teenage drivers can also purchase physical damage coverage, medical payments coverage, gap coverage, and rental reimbursement insurance.
Liability coverage is required in most states. It is recommended to buy additional coverage because the state minimums may not fully protect you from lawsuits. If you purchase insufficient coverage, you will end up paying thousands of dollars from your own pocket in the event of an accident.
Compare Auto Insurance Quotes Online
The most convenient way to find cheap car insurance for teenage drivers is to shop around and compare free auto insurance quotes from different companies. Millions of people are using the Internet to buy coverage for their vehicles. With a few clicks, you can get hundreds of quotes from leading insurers.
When shopping for car insurance, you should determine what type of coverage you need and how much of it you need. Use a quote comparison website to get free auto insurance quotes from national and local insurance providers. Some websites offer free quotes from over 150 different companies.
Applying for free car insurance quotes takes only a few minutes. You will be required to provide a few details such as your age, marital status, zip code, income, driving record, make and model of your car, and annual mileage. As soon as you fill in the application form, you will get free car insurance quotes that suit your particular needs.
Comparison shopping is the most effective way to reduce insurance rates. Using a quote comparison website can save you time and money. It is advisable to compare at least three car insurance quotes from different carriers. Some experts say that customers should compare up to seven auto insurance quotes in order to get the best deal out there. Many of these websites also provide free auto insurance tips, exclusive deals, and informative articles. Some of them feature quote comparison tools, insurance facts, and online calculators.
Many auto insurance companies offer discounts to teenage drivers who buy their policies online. They also provide special deals ands bonuses. When you compare car insurance quotes online, ask about the latest discounts. Statistics indicate that customers who buy insurance online can save as much as 70 percent on coverage. Another advantage of shopping for auto insurance online is that you don't waste time and money going from one insurer to another. Most companies allow customers to pay their bills, update their accounts, and purchase additional coverage online.
Get Lower Car Insurance Rates
Teenage drivers can save money on car insurance by raising their deductible or by taking defensive driving classes. Some auto insurance companies offer discounts to those who get good grades in high school. For extra savings, raise your deductible to at least $1,000. If as a young driver you volunteer to pay a higher deductible, you will get lower car insurance rates. Add some money to your emergency fund and maintain a clean driving record. If you have an older car, you should think about dropping collision and comprehensive coverage entirely.
Reduce Your Annual Mileage
If you are on a tight budget, consider taking a limited mileage policy. Teenage drivers who agree to a mileage restriction pay less on auto insurance. The fewer miles you drive, the less likely you are to get involved in a car accident. Insurance companies recognize this fact and offer massive discounts for low mileage drivers.
Be a Good Student
Statistics show that teenagers who maintain at least a B average tend to be more responsible drivers. For this reason, many auto insurance providers offer a good student discount.
Maintain a Good Driving Record
Safe drivers with a good driving record pay the lowest car insurance rates. Maintaining a good driving record can help you save up to 20 percent on coverage. Plus, if you don't make any claims for at least five years you will get a no claims bonus. Having no points on your license means lower premiums.
Be a Named Driver
Teenagers who drive their parent's car could go on their parent's policy as named drivers and save up to 10 percent on auto insurance. Adding a second driver to your policy can save you money as well.
Take a Defensive Driving Course
There are several defensive driving courses designed to help young drivers gain experience on the roads. By taking a driving course, you will become a safer driver and pay less on your policy.
Make sure you take full advantage of the current auto insurance discounts. Paying your premiums in one lump sum or getting an additional driving qualification can save you hundreds of dollars on coverage. Keep in mind that anything that increases the value and performance of your vehicle to thieves will boost your car insurance rates. Add an approved alarm to your car, fit additional security devices, and avoid making modifications to your vehicle.